Instant Clean Additive 
Instant Clean Additive is the solution for random drug testing. For THC toxins and recommended only for a Gas Chromatography/Mass Spectrometer (GC-MS) test. We recommend our SPIKE Urine Additive when tested with an instant test kit (EMIT) type of device.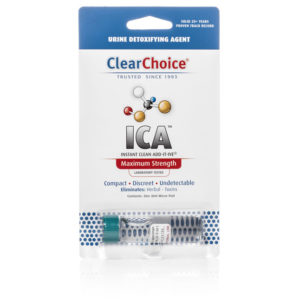 The Solution for Random Situations
Destroys Herbal Toxins on Contact
Simple to Use – Just Pour into Sample
8mL Micro Vial – Small & Easy to Conceal
Formulated for Herbal Toxins
Not Recommended for Drug Screens     

BUY NOW $75
Directions for use:
✓If possible, urinate 1-2 times before the urine test.
✓Empty entire contents of the vial into urine specimen cup then urinate into the specimen cup.
✓One Clear Choice Instant Clean Drug Test Additive vial is intended for 2-3 ozs (60-90ml) of the urine sample.
✓Do not eat or drink large amounts of fluid the day of the urine test.