Instant Clean Additive 
Instant Clean Additive is the solution for random drug testing. For THC toxins and recommended only for a Gas Chromatography/Mass Spectrometer (GC-MS) test. If you are to be tested with an instant test kit (EMIT) type of device then we recommend our SPIKE Urine Additive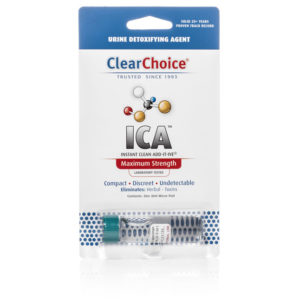 The Solution for Random Situations
Destroys Herbal Toxins on Contact
Simple to Use – Just Pour into Sample
8mL Micro Vial – Small & Easy to Conceal
Formulated for Herbal Toxins
Not Recommended for Drug Screens     

BUY NOW $75
Directions for use:
✓If possible, urinate 1-2 times before the urine test.
✓Empty entire contents of vial into urine specimen cup then urinate into specimen cup.
✓One Clear Choice Instant Clean Drug Test Additive vial is intended for 2-3 ozs (60-90ml) of urine sample.
✓Do not eat or drink large amounts of fluid the day of the urine test.
Click here to read more about urine testing.